Description:
Planet 4 in this system is the Glow Bug Giant, a green gas giant which is notable not just for its proximity to Colonia, but also for its rather unique appearance. There are three large bands of bioluminescent clouds circling its equator, which give a striking contrast to the otherwise dark colours of the gas giant. In addition, there is a bright icy ring around the planet, offering even better visuals.
Horizons view
The first moon of the gas giant (4 a) has surface volcanism with materials. It was the starting location of the Land of Giants Expedition in 3303.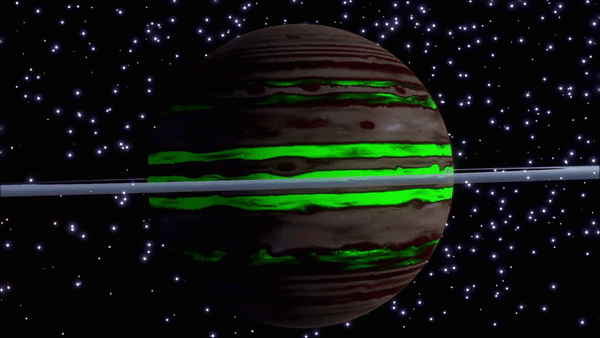 The system also features a large number of landable bodies, most of them being icy moons - some of which feature a thin methane atmosphere.On the thin atmospheric planets, three varieties of Bacterium Bullaris (Red, Lime and Cobalt) can be found, and there are also Fonticulua Digitos - Emerald.
Astrophotography by CMDR Arcanic